VIP Treatment For Our Competition Winners
11 December
It was our pleasure to welcome Steph and Mark, the lucky winners of our recent Poldark competition, to Martha's Orchard for their luxury break.
Breathtaking scenes at St Michaels Mount
Steph and Mark's VIP treatment started on Friday with a private tour of West Cornwall by The Elite Duchy Touring Company. With a chance to explore some of Cornwall's truly spectacular locations our guests were taken to The Lizard, Kynance Cove, Church Cove and St Michael's Mount. Pete, their friendly personal chauffeur, used his local knowledge to ensure there was time to sample some of the finest Cornish pasties and cream teas along the way!
Friday's weather was a little wet with the tail end of a storm so Steph and Mark witnessed first-hand the sheer drama of the rolling waves of the Atlantic Ocean crashing against the Cornish cliffs. Rugged Cornwall at its best and, whilst breathtaking, this weather may well have been the cause of many a shipwreck in centuries past, similar to the shipwreck that was shown at the end of Poldark Series 1.
Walking in the footsteps of Aidan Turner and Eleanor Tomlinson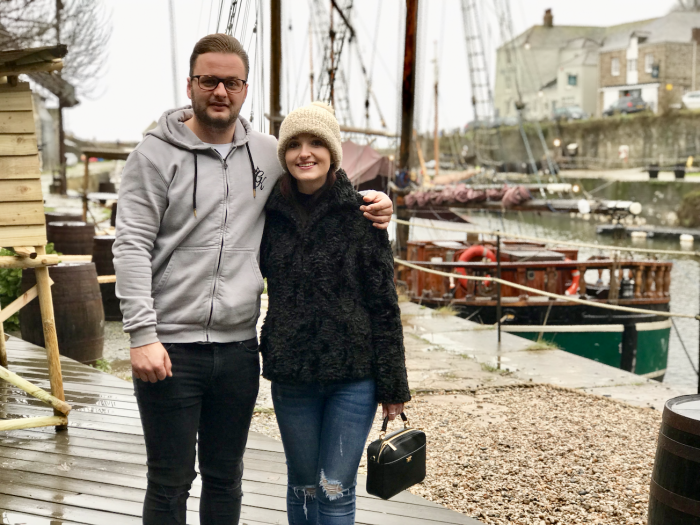 Saturday morning started with a short drive from Martha's Orchard to the Historic Port of Charlestown for a private tour of the harbour. With a number of tall ships moored in the harbour and filming props situated on the quayside it's certainly a fascinating place to visit. This harbour was used just a few weeks ago as a filming location for Poldark Series 5 and we were able to show our guests the exact locations used by Aidan Turner during the filming.
"The demonstration was amazing and really entertaining" remarked Steph, "Jack was incredibly knowledgeable and I can't wait to watch his new TV series when it comes out in 2019. It was also really nice to meet with his father, Rick Stein."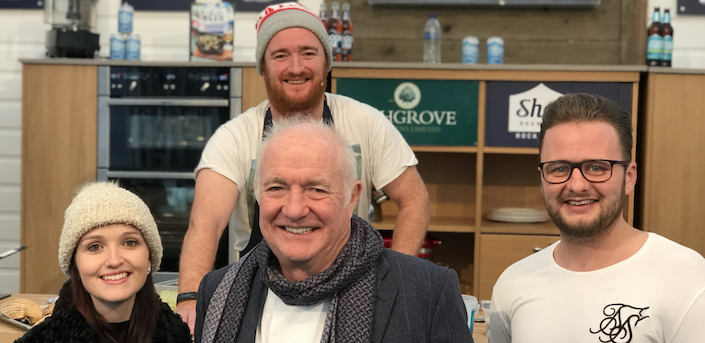 After the tour there was time for a quick hot drink, at one of the many cafes along the harbour, before returning to The Elite Duchy Touring Company Landrover Discovery. A short drive to Padstow where Steph and Mark were able to enjoy the delights of the fantastic Christmas Food Festival, an annual event that really wows the crowds. What better for our prizewinners than to start the festival off with VIP seats at Jack Stein's food demonstration.
Inside 'Ivey', the perfect place to relax and eat a Wood Pigeon burger!

After the show it was time to relax in 'Ivey', the vintage VW Camper owned by our sister site, Mother Ivey's Bay Holiday Park. Ivey is sixty years old and has been beautifully restored.
Steph and Mark then had a few hours to explore the many stalls selling wonderful and local produce with time to purchase a few Christmas gifts and goodies before being treated to a VIP beer sampling session in the Sharps Brewery 'Secret Bar'. Sorry we can't show you any photos of this because it really is that secret. All we can reveal is Steph and Mark thought it was awesome!
Our guests were then chauffeured back to Martha's Orchard for an evening in their luxury retreat, with their own private hot-tub. As an extra bonus they also had a lovely bag of artisan confectionary to enjoy which was kindly provided by Buttermilk of Padstow.
Sunday was a free day for our guests. When we found out their hobby of sea fishing we were pleased to offer access to our private beach at Mother Ivey's Bay Holiday Park. With golden sands and beautiful views we knew it would be a great spot for them to fish.
With thanks to our lucky prizewinners, Steph and Mark, who were both a pleasure to have stay and show around.
"We had an amazing weekend" said 'Steph. "We loved Martha's Orchard and the tours were fantastic".
Look out for our future competitions – next time it could be you enjoying the VIP treatment!